boredom & terror in christopher sims's banal surreal gitmo photos.
Christopher Sims' people-less photographs of the naval base and detention facility at Guantánamo Bay, Cuba, which he visited in 2006, are filled with ghosts. By portraying Gitmo as a kind of abandoned facility, Sims heightens the sense of both boredom and terror. On the one hand, the setting is so paradisical, with palm trees, rolling hills, and the ocean. On the other, we seem to be trapped behind barbed wire in an exurban housing development gone into massive foreclosure — and one in which you may hear occasional screams of bankrupted owners being tortured by their creditors just beyond the hills and walls.
Or wait, are we in some kind of museum of Gitmo Bay? Are we at some kind of historical heritage site? If we are, we know that the events of past are very recent — chillingly recent. If this is a museum still in the making, it's a terrifying place in which playgrounds and cell blocks, lunch and torture, mingle beneath the relentless blue sky.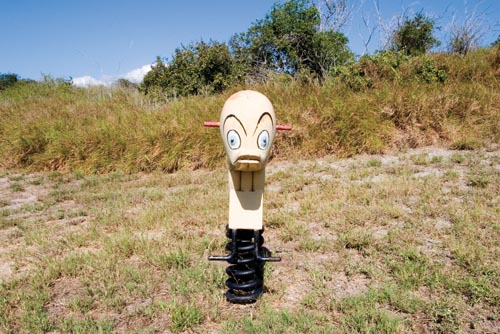 The exhibition is currently at Civilian Art Projects in Washington, DC.