the pioneering folk, blues & rock guitarist visits the berkeley folk music festival project @ northwestern university, 25 may 2012.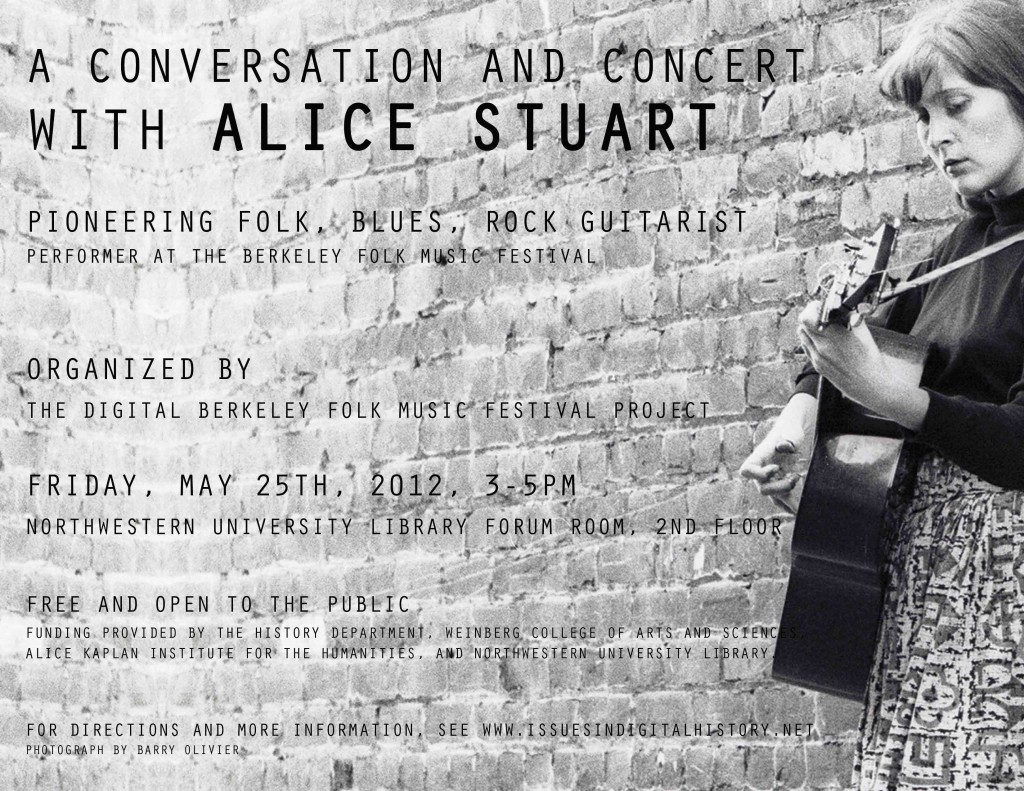 We are delighted to have Alice Stuart visiting The Digital Berkeley Folk Music Festival Project at Northwestern University. Alice will be visiting with my seminar students in Digitizing Folk Music History, spending some time in the actual physical archive, recording an oral history interview, and performing both at Northwestern and around the Chicago area.
Alice is a renowned folk, rock, and blues guitarist. As legendary blues musician Taj Mahal said of her, "Alice cut the road that Bonnie (Raitt) walked."
She is one of the foremothers of sixties rock. Alice wrote her own music, fronted a male band, and played lead guitar on national and international circuits. She first became known as a folk singer in her hometown of Seattle, Washington, and then in 1964 at the Berkeley Folk Music Festival. She eventually toured with folk and blues legends such as Joan Baez, Doc Watson, Mississippi John Hurt, Lightnin' Hopkins, Albert King, and many others. In 1964, she released her first LP, All The Good Times on Arhoolie Records.
As the 60s progressed, Alice shifted to electric rock and blues. In 1966, she collaborated with Frank Zappa as an original member of The Mothers of Invention. She went on to form her own band, Alice Stuart and Snake (some vintage concert footage). Throughout the 1970s, she toured with Van Morrison, Commander Cody, Michael Bloomfield, and John Prine. Alice appeared and recorded with Jerry Garcia, John Hammond, Elvin Bishop, Sonny Terry, Tower of Power, and many others. Her songwriting skills led artists such as Irma Thomas, Kate Wolf and Jackie DeShannon to record her music.
After spending the 1980s raising a family, Alice returned to music. In 2003, her song "I Ruined Your Life" was chosen for the soundtrack of The Station Agent, a Sundance favorite released by Miramax.
Guitarist Brad Davis describes Alice's playing as "so laid back and so in the pocket that it is magical. When she solos she kind of lays her notes in the shadows. You expect to hear them in a certain place, but she subtly slides them in where you are not expecting to hear them. It surprises you and really captures your attention. I love it!"
NORTHWESTERN CAMPUS EVENT
Friday, May 25 at 3:00pm (Free)
Alice Stuart in Conversation and Concert
Northwestern University Library, Library Forum Room, 2nd floor
1970 Campus Drive, Evanston
As part of his 'Digitizing Folk Music History' course and ongoing digital humanities research on the Berkeley Folk Music Festival, Northwestern University's professor of History and American Studies Michael J. Kramer will present Alice Stuart in a public "conversation and concert." Admission is free.
Funding and support generously provided by the Northwestern University History Department, the Alice Kaplan Institute for the Humanities, Northwestern University Library, Northwestern University Information Technology, and Weinberg College of Arts and Sciences.
OTHER CHICAGO APPEARANCES